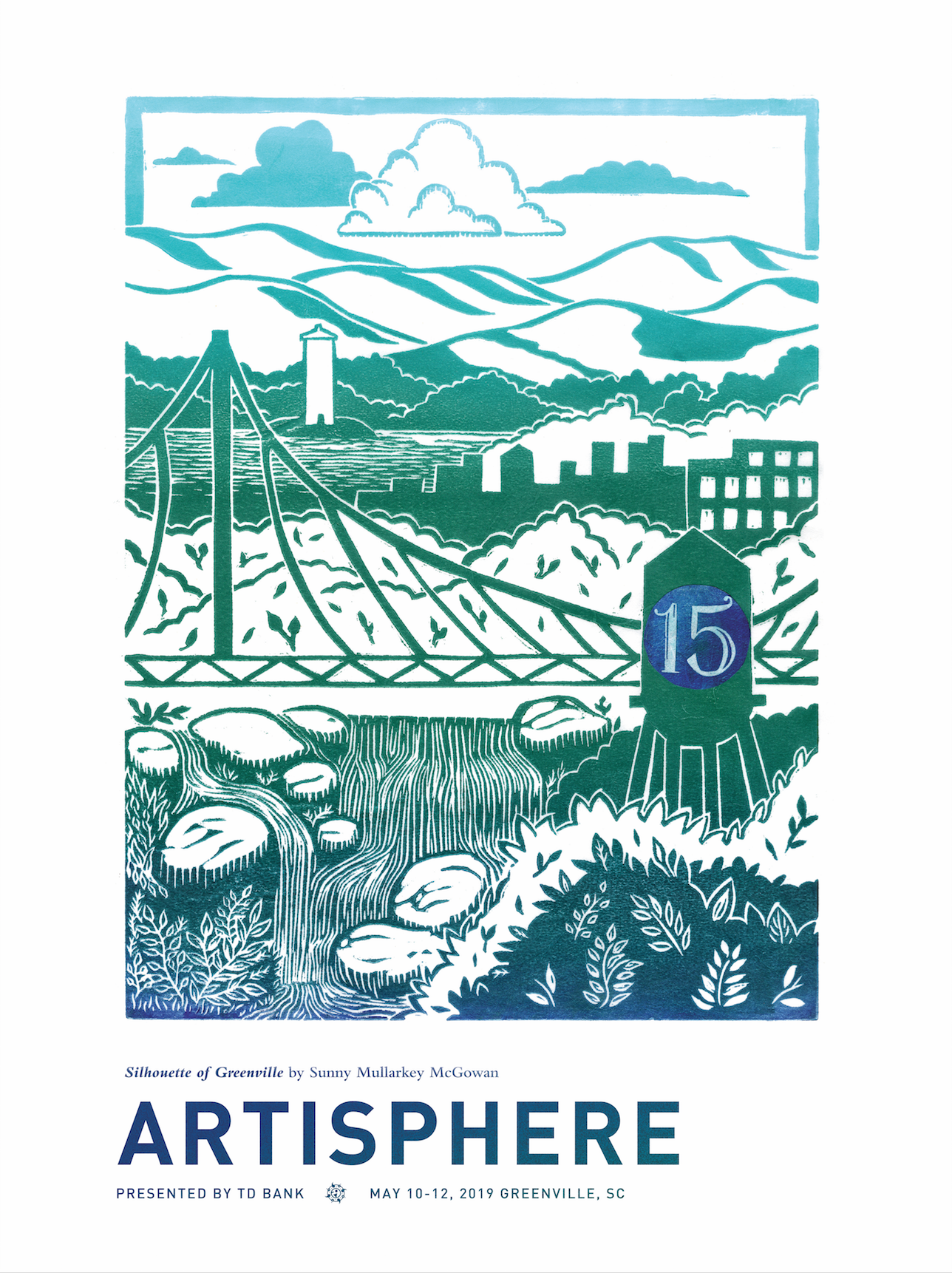 Sunny Mullarkey, a professional printmaker and Greenville local, is the designer and creator of the 15th annual Artisphere presented by TD Bank poster that was selected to represent this years show!
In honor of our 15th anniversary, we asked Sunny 15 questions about art and Artisphere.
Q: Who/what has been the biggest influence on your work?
A: I have a deep connection to the woods and wilderness, to the little things that seem often over looked or under appreciated; this connection and fascination has a stone ground influence on my work.
Q: What part of the creative process is most exciting to you?
A: I get the biggest thrill from pulling the very first print off of a freshly carved block. To see the print come to life is so exciting.
Q: What is a day in the studio like for you?
A: Having a lot of different steps to my creative process, I don't have one particularly typical day. Some days are spent sketching and drawing and carving my blocks, while other days are spent mixing colors and pulling prints. And then other days will be spent preparing wood panels and mounting prints. I love the variety of work I get to do, each day is different!
Q: What drew you to printmaking as opposed to any other medium?
A: I love printmaking because of how physical the medium is. I love that you start with a 2-D sketch then create an almost 3-D object, then end with a final 2-D print, essentially creating three different things though one idea.
Q: When did you know that you wanted to be an artist?
A: I have been drawing and painting ever since I was a child, but I think I truly became determined to make art a career when I took an art class in high school – I had the most incredibly amazing teacher who motivated and encouraged me to pursue my talents at the governors school and college.
Q: Why is Artisphere a "must do" show for you every year?
A: While this year is my first year participating as a featured artist, I have always loved attending Artisphere for the beautiful, high-quality art, and inspiration that I find throughout the entire event. My family loves coming and exploring artists from all around the country with me. It's our favorite weekend of the year.
Q: What is your background in art (self-taught or schooling) and how has it affected your work?
A: I always created throughout my childhood and into my high school years. I was able to attend the Governor School for the Arts in high school which was an amazing opportunity! I learned different mediums and techniques I had never been exposed to. This created a wonderful momentum for my college years where I continued expanding and exploring new mediums, falling in love with printmaking and painting. To this day I love trying new mediums – I feel like it is a work out for my creative muscles, and helps me move forward and progress in my work.
Q: What advice would you give to aspiring artists?
A: As I have developed and grown as an artist, I've realized that you will put in many hours of hard work and dedication, and slowly but surely you will move forward and your work will pay off. So my advice would be to never stop working, never stop creating, even if it's small amounts every day. Through work you will find your voice, it is unique and the world needs to hear it. After time you will see the fruits of all of your labor. You CAN do this.
Q: What work are you most proud of and why?
A: I love teaching through SmartArts, to be able to reach children with a medium they might not have experienced before, and to see the joy on their faces when they realize they can make a print! I am most proud of the work I do when I teach children.
Q: If you weren't an artist, what would you be doing?
A: If I weren't an artist, I would love to be a photojournalist!
Q: How important is a sense of community for artists?
A: Community is so important to people of all walks of life, but with artists in particular, community gives you a sense of security knowing you are not alone. Other artists understand the struggles you can go through, the work and dedication it takes to make a career, and they help celebrate those hard won wins.
Q: How has being an artist affected you as a person?
A: Being an artist has expanded curiosity tenfold, helping me be even more aware of the beauty of nature, and to be down to absorb the energy and grace of each moment that I find wonder in.
Q: How do you want your work to be remembered?
A: I want people to find joy in my work, because I create simply to add more beauty to the world. I would love for my work to be remembered as curious and bold, connecting the boundaries of delicate beauty and graphic details .
Q: What importance do the arts have in education? 
A: I find the arts to be incredibly important when it comes to education. It's so imperative for children to be exposed to the arts – music, dance, visual art – it truly helps them be a well rounded student and to learn to express themselves. Children are naturally creative, and it's amazing to see what they imagine when encouraged in their creativity through artistic processes. I find it incredibly inspiring to work with children through the SmartArts program. To teach the children printmaking and watch them come to life learning a new medium is just incredible, and the students gain pride and confidence with each piece they create.
Q: Who is an artist that you admire?
A: I love the work of Georgia O'Keeffe – her ability to capture the emotion and power of objects through abstracting the natural world is so moving, powerful and feminine.