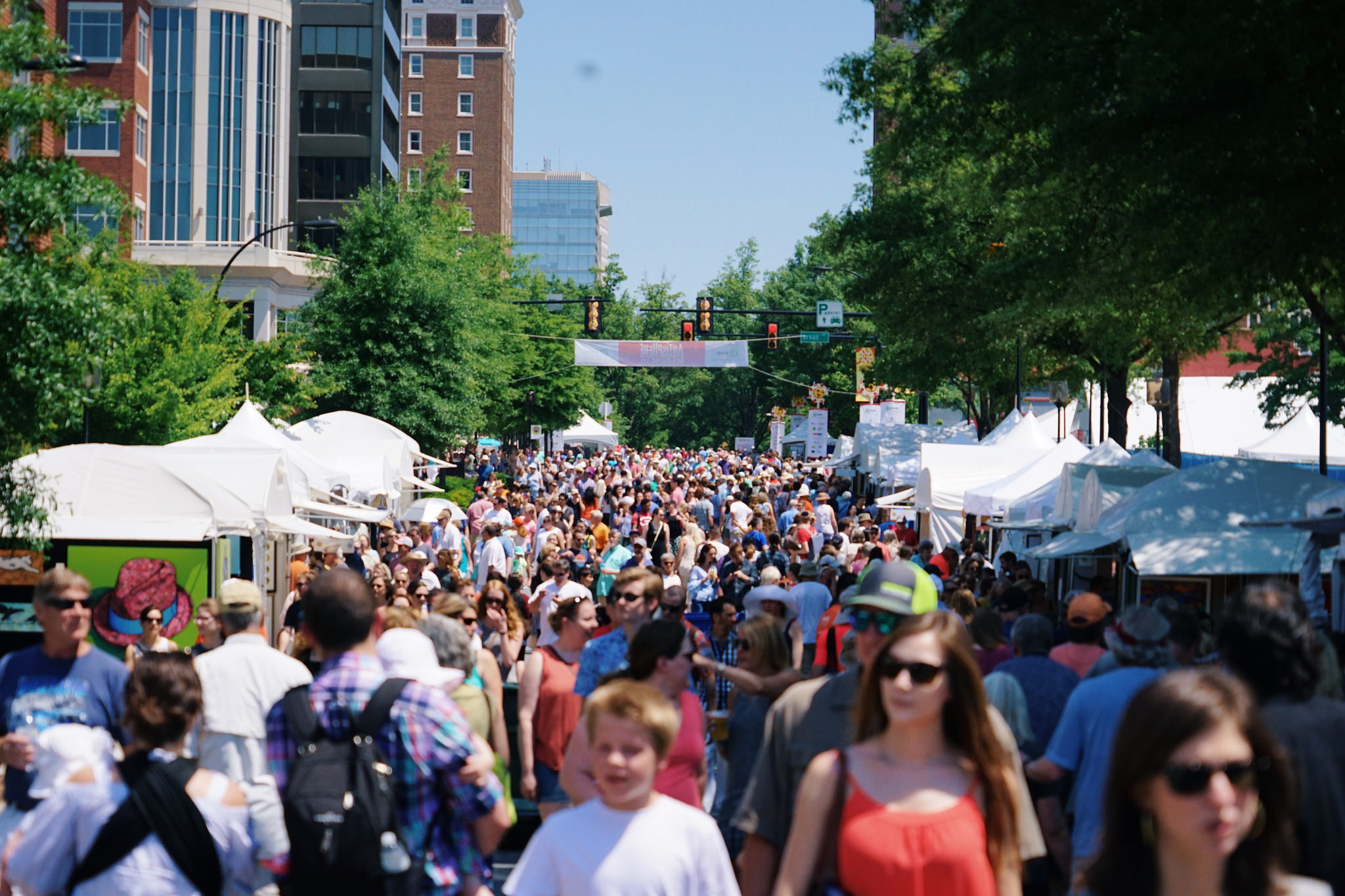 Artisphere 2018 was Hot, Hot, Hot!
Artists, Parades and Volunteers not defeated by high temperatures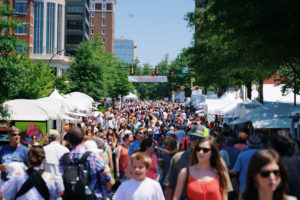 The 14th annual Artisphere presented by TD Bank (May 11-13) was hot (temps spiked over 95 degrees) but 88,645 patrons braved the heat and spent more than $1,050,000 purchasing art and setting a festival record for bottled water sales.  The weekend produced a $5.8 million economic impact on the community making the annual festival another huge success.
Ceramics artist Michael Schwegmann traveled 674 miles from Bement, IL to participate in the festival and complimented the Board, staff, City of Greenville, and the volunteers on an amazing event saying that Artisphere is "one of the best run [art] shows in the USA!"
Festival organizers say the 2018 show offered some of the most impressive talent and programming in the event's 14year history.  "Street Muralist Nate Baranowski from Chicago, IL was unbelievable!" stated Artisphere Executive Director, Kerry Murphy.  "His 3-D chalk mural of a bicycle on the Swamp Rabbit Trail was over the top cool! If you stood in just the right spot, it looked like you were actually riding the bike on a path. We can't wait to see what he will create next year."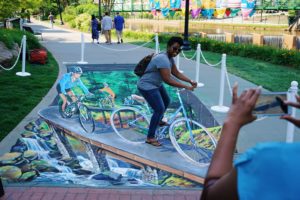 David Zinn (Ann Arbor, MI) again endeared himself to Greenville festival goers by recreating the beloved Mice on Main characters caught in some of the most precarious situations in unexpected cracks and crevices all around Main Street.
Brian Olsen (Denver, CO) returned to the Wells Fargo Art in Action stage with his high energy, 4' x 8' recreations of pop culture icons.  Slinging paint, singing along with the music and engaging the audience, Olsen orchestrated pieces of Willie Nelson, Prince, and Kenny Chesney among others.   
Of the 135 exhibiting artists on GE Artist Row, 15 of them were from Greenville.  Two local artists also demonstrated on Michelin Demo Row while an additional 13 local artists did hands-on demonstrations in the Art Lab. Two stages featured 7 local musical acts and 14 local theater and dance group performances. 56 local artists displayed 66 pieces in the Greenville Health System & Community Journals Artists of the Upstate Exhibit.  DRUM Percussion and Logos Theatres wowed the crowd with their lively street parades featuring a larger than life, fire breathing dragon puppet, animal character stilt walkers and drums. Lastly, student artists across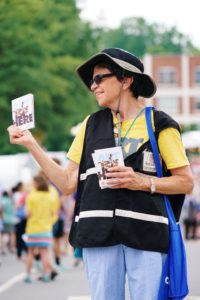 Greenville County were featured at the festival in the Furman University Greenville County High School Juried Exhibition with just under 200 pieces of work showcased.
Artisphere distributed $16,500 in artist awards and another $10,000 to the local performing arts groups (made possible by a grant from The Fred Collins Foundation). Artisphere also contributed $20,000 to its volunteer groups. Among the 2018 beneficiary groups were Boy Scout Troop 266, Carolina Dance Collaborative, Girl Scout Troop 176, Greenville Chinese Cultural Association, Greenville Chorale, Greenville Concert Band, Hispanic-American Women's Association, International Ballet, Palmetto Statesmen, South Carolina Children's Theatre, Vocal Matrix and the South Carolina Governor's School for the Arts and Humanities. To date, Artisphere has gifted $254,000 to local nonprofit organizations.
Artists appreciated volunteer efforts to keep happy and hydrated.  Anastasia Alexandrin (Drawing) made the trip from Philadelphia and credited the volunteers with being her "life savers" thanking all "for the most amazing weekend!"
Festival goer Nancie Jean Papreska Cheskey from Piedmont vowed she would be back saying, "I was totally impressed with the booths and beautiful crowds. I am already looking forward to next year and the 15th Artisphere!"
Plans for the 15th annual festival are well underway and dates are set for May 10-12, 2019. Visual artist applications can be submitted on www.zapplication.org now through October 4, 2018. For more information, visit www.artisphere.org.