FOR IMMEDIATE RELEASE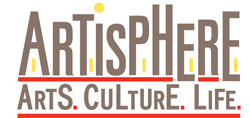 November 25, 2014
Contact: Kerry Murphy  864.271.9398 (o)  [email protected]        
TD Bank returns as presenting sponsor of Artisphere for another record-breaking year
Greenville's nationally acclaimed art show receives record number of visual artist applications for 2015 festival
[Greenville, SC] TD Bank returns as the presenting sponsor for the 11th Annual
Artisphere
festival scheduled May 8-10, 2015. Lead supporter since
Artisphere's
inception in 2005, TD Bank commends the organization's impact on Greenville's quality of life and local economy, as well as the recognition it has garnered for the region's arts and culture scene.
"TD Bank is pleased to support Artisphere as its Presenting Sponsor for the 11th consecutive year," said David Lominack, TD Bank Market President. "Every year, this event brings a wonderful variety of art, artists and patrons to downtown Greenville. Events such as this help maintain the attractive quality of life in our community and benefit our business community through economic development."
Artisphere received a record-high 995 visual artist applications for the 2015 festival. Show organizers attribute the rise in applications to an increased awareness of Greenville's art-friendly community as well as to the festival's track record for garnering meaningful sales for participating artists. Greg Lawler's Art Fair Sourcebook reported average sales of $7,400 per 2014 exhibiting artist, reflecting an increase from $6,500 in 2013.
Now ranked a Sourcebook Top 10 Fine Art Show three out of the past five years, Artisphere hopes the increase in artist sales will push the show higher up the list for 2014. "It is our goal to become the #1 Fine Art Show in the country," stated Artisphere Board of Directors President, Charlie Mickel. "With support from partners like TD Bank, coupled with Greenville's growing appreciation for original artwork, we feel confident we can reach our goal."
Artisphere judges reviewed applications on November 15th. The 2015 jury panel includes: Anne Trabue Watson Nelson, Visual Arts & General Programming Coordinator, City of North Charleston Cultural Arts Department. Marthe Le Van, Jeweler, Owner of Mora Contemporary Jewelry, Asheville, NC. Kathleen Thum, Assistant Professor of Art, Drawing, Clemson University, Clemson, SC. Zac Lopez Ibanez, Owner FEHLO Design Company, practicing metals & furniture studio artist, former Penland School of Crafts metals studio coordinator, Penland, NC.
After scores are tabulated, top artists will be notified of their acceptance to the festival in early December. A complete list of participating artists will be announced in January, 2015.
Mark your calendar for the 11th Annual Artisphere presented by TD Bank on Friday, May 8-Sunday, May 10, 2015. For more information about Artisphere visit www.artisphere.us.
About Artisphere
Artisphere is a highlight of Greenville's cultural calendar and a Top 10 Fine Arts festival.  The event features a juried Visual Artist Row; Artists of the Upstate, a juried exhibition of local artists; Outdoor Stages with performances by local and national artists; hands-on Kidsphere children's art activities; the Culinary Arts Café that highlights local restaurants; and Special Festival Art Projects that enliven the streets of Greenville with street musicians, acrobats, sidewalk artists, and more. Artisphere is attended by approximately 75,000 patrons annually and has an estimated economic impact of $5.5 million on the Greenville community.  Artisphere is a 501(c) (3) not for profit organization. For information visit www.artisphere.us.
About TD Bank, America's Most Convenient Bank®
TD Bank, America's Most Convenient Bank, is one of the 10 largest banks in the U.S., providing more than 8 million customers with a full range of retail, small business and commercial banking products and services at approximately 1,300 convenient locations throughout the Northeast, Mid-Atlantic, Metro D.C., the Carolinas and Florida. In addition, TD Bank and its subsidiaries offer customized private banking and wealth management services through TD Wealth®, and vehicle financing and dealer commercial services through TD Auto Finance. TD Bank is headquartered in Cherry Hill, N.J. To learn more, visit www.tdbank.com. Find TD Bank on Facebook at www.facebook.com/TDBank and on Twitter at www.twitter.com/TDBank_US.
TD Bank, America's Most Convenient Bank, is a member of TD Bank Group and a subsidiary of The Toronto-Dominion Bank of Toronto, Canada, a top 10 financial services company in North America. The Toronto-Dominion Bank trades on the New York and Toronto stock exchanges under the ticker symbol "TD". To learn more, visit www.td.com.