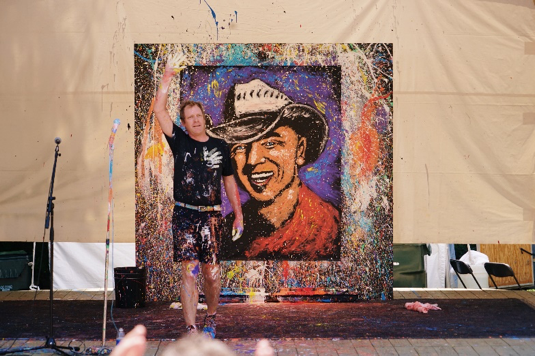 What's New
Artists
GE Artist Row will feature 135 visual artists, selected by a panel of five jurors from an applicant pool of 952. Of the 135 artists, 35 will exhibit at Artisphere for the first time, 20 of which had never before applied. 16 artists are local Greenvillians,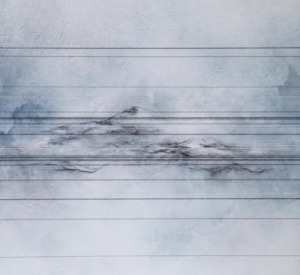 including: Sunny McGowan (Printmaking), Kent Ambler (Printmaking), Marie Gruber (Photography), Glory Loflin (Painting), Joseph Bradley (Painting), Rey D'Alfonso (Painting), Keith Grace (Mixed Media-2D), Kiah Bellows (Mixed Media-2D), Kate Furman (Jewelry/Semi-Precious), Llyn Strong (Jewelry/Precious), Meredith Piper (Fiber), Darin Gehrke (Ceramics), Janina Ellis (Painting).
Two local Emerging Festival Artists received scholarships for the 2019 festival: Taylor Adams and Alice Allen. They will receive free booth space, mentoring, and a professional photograph of their booth display. The comprehensive list of participating artists is now available on www.artisphere.org.
"As the Rain Comes" Original Artwork Detail by Emerging Festival Artist, Taylor Adams. 
Jim and Shirl Parmentier, ceramic artists from Mars Hill, NC, are the only artists to exhibit their work in all 15 festivals. The Parmentiers commented that "Artisphere has always been a favorite show. The people of Greenville love their city and are always supportive of the show."
Festival Layout
Upon arriving to the festival, loyal patrons will quickly notice almost everything has a new home. Due to the ever-changing city scape that is Greenville, SC, we've rearranged many of the attractions and exhibits to better serve our patrons. So, everything that's old will feel brand new again!
Culinary Arts Cafe + Wine & Craft Beer Experience
Whether you crave Belgian frites, tacos, or shrimp and grits, you'll find your happy medium at the Culinary Arts Café. This year features options from some of Greenville's favorite restaurants, including Crepe du Jour, Cantina 76, Larkin's on the River, Trappe Door, and Duke Sandwich Co. (Barley's Pizzeria and Taproom will be available in Kidsphere.)
The Wine & Craft Beer Experience presented by Suntrust will now be open all festival hours at its new location next to the WYFF-4 Main Stage on Broad Street, offering a great pairing of music and libation sampling.
Festival Favorites with a Few Twists
Chalk Artist, David Zinn
David Zinn, illustrator and street artist, created his own version of "Mice on Main" (originally created by Jim Ryan, Zan Wells, and Linda Kelly) at the 2018 festival and will be returning to the 2019 festival with more whimsical chalk creations. Using chalk and charcoal, Zinn integrates his temporary pieces into the local landscape. From Ann Arbor, MI (Zinn's home) to Manhattan to Sweden, his loveable creatures have been featured in multiple cities worldwide. For more information, visit https://zinnart.com/.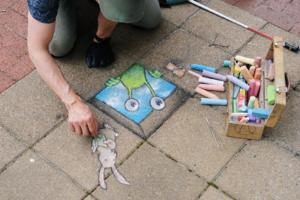 David Zinn at work during Artisphere 2018. Photo by Creagh Cross.
Street Muralist, Nate Baranowski
From the creative city of Chicago, IL, Nate Baranowski will return to the lineup of working artists at Artisphere 2019. He is a street painter, muralist, and fine artist who travels to create three-dimensional chalk drawings at festivals and cities worldwide. His debut piece at Artisphere 2018, a 3D bicycle mural that guests could take their picture with and actually look like they were riding on the Swamp Rabbit Trail, was a huge hit! View Nate's creation from the Main Street Bridge, then walk through his 3D visual experience along River Walk. For more information, visit www.natebaranowski.com.
Interactive Exhibits
Returning to Artisphere 2019 are the Clemson University Science, Technology, Engineering, Arts, & Mathematics (STEAM) Exhibit (featuring over a dozen interactive activities), the University of South Carolina Art of Healthy Living Exhibit (promoting health sciences via interactive experiences), the BMW Manufacturing & Michelin Demo Row (a backstage view of the artistic process, this year will demonstrate glassblowing and metalworking), the atHome Magazine Art Lab (an opportunity to watch expert artists at work and first come first served DIY projects to nurture the artist within), the Greenville County High School Juried Exhibit presented by Furman University (showcases talented young artists from the Greenville County School District), and the Greenville Journal and Prisma Artists of the Upstate Juried Exhibition. These special exhibits give patrons a glimpse of artists at every stage of their career, from student to professional, and offer opportunities to explore art as it intersects with modern day technology, health and life.
Art in Action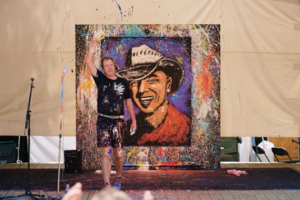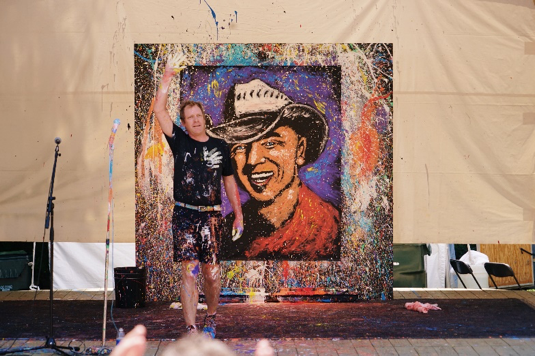 Back for the 15th year in a row, Brian Olsen's Art in Action returns to the Wells Fargo Stage in Falls Park. Olsen's performances are an explosion: a colorful display of paint, energy, music, and passion.  Using fingertips, palms, elbows and up to three brushes in each hand, Olsen paints portraits of famous musicians, sports figures, and pop culture icons on a 4.5' x 6' canvas in a matter of minutes. He takes the audience through an amazing journey of excitement, suspense, cheer, and surprise.
Brian Olsen at Artisphere 2018. Photo by Creagh Cross.
Kidsphere + Community Sculpture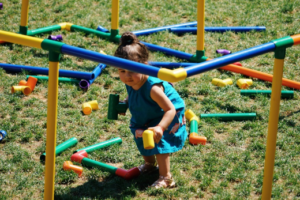 Kidsphere, presented by Spinx, is back, but with a new twist! No longer separated by North and South, Kidsphere will be in relatively close proximity to each other and divided into craft and music activities. Kidsphere Visual Arts will be in the same location; whereas, Ki
dsphere Music will be in front of City Hall. This year's activities will include Paper Robots, Mother's Day Cards, Party Hats, Straws and Connectors, and an Aspiring Artist Station. Students from the South Carolina Governor's School for the Arts and Humanities, along with staff and artists from the Greenville Center for Creative Arts, will lead children in making crafts and developing creativity in this area. DRUM Percussion Studio will be leading interactive sessions for children to explore their musical genius and create their own versions of masks in the booths. DRUM Percussion Studio will also parade down Main Street throughout the weekend with their handcrafted masks. Also returning is the ever-popular Metromont Community Sculpture located in Falls Park, offering an opportunity for any Artisphere visitor to take part in a collaborative artistic installation. 
Young girl takes part in the Community Sculpture at the 2018 festival. Photo by Creagh Cross.
Live Music
This year, all musical acts will be on one stage—the WYFF-4 Main Stage, which is moving to Broad Street. This year's music line-up hosts talented musicians from Rockford, IL to Chapel Hill, NC and Nashville, TN offering something for everyone from R&B to Jazz, Indie to Americana and Funk to Soul and Rock. Headlining acts include The New Respects, a Rock/Blues/Soul/Funk group from Nashville, TN and Indie/Folk artist Jill Andrews also from Nashville, TN. Artisphere will also present regional favorites Audrey Hamilton & The Vibes (Greenville, SC), Ellis Dyson and The Shambles (Chapel Hill, NC), The Apartment Club (Spartanburg, SC) and Jeff Sipe's State Birds (Brevard,NC) among others. Check out the full music line-up on www.artisphere.org/performing-arts.
Local Performing Arts Showcase
Also back with a new location is the Fred Collins Foundation Local Performing Arts Showcase. Greenville's nonprofit performance groups will take the stage on the Peace Center Plaza. Groups include GLOW! Lyric Theatres, Fine Arts Center Jazz, Dance, and Theatre, Centre Stage, Dance Theatre of Greenville, and more. With the support of the Fred Collins Foundation, Artisphere is able to provide a stipend to help their organization and performers. Please visit our website for a full schedule and lineup.
"The 15th annual Artisphere presented by TD Bank has shaped up to be the most exciting yet with new spins on festival favorites, a facelift to the layout, and a few new additions," stated 2019 Artisphere Board of Directors President, Ed Zeigler.  "We believe that this year's Artisphere will be one to remember and hope you will all join us!"
Find your happy medium at Artisphere, presented by TD Bank, May 10-12, 2019.