Become a VIP
Support Greenville's Favorite Festival &
Get Access to the Best Party In Town
With the help of gracious sponsors and people like you, Artisphere brings over 200 artists and nearly 20 performances to Main Street. As a donor, you're not just supporting the local art scene and helping facilitate one of the city's biggest tourist drivers—you're becoming a VIP.
As an Artisphere VIP not only will your name be published in our festival guide and on our website, you'll also receive hospitality passes for the entire weekend, an invitation to the first-ever VIP Preview Party, and early VIP access when tickets become available!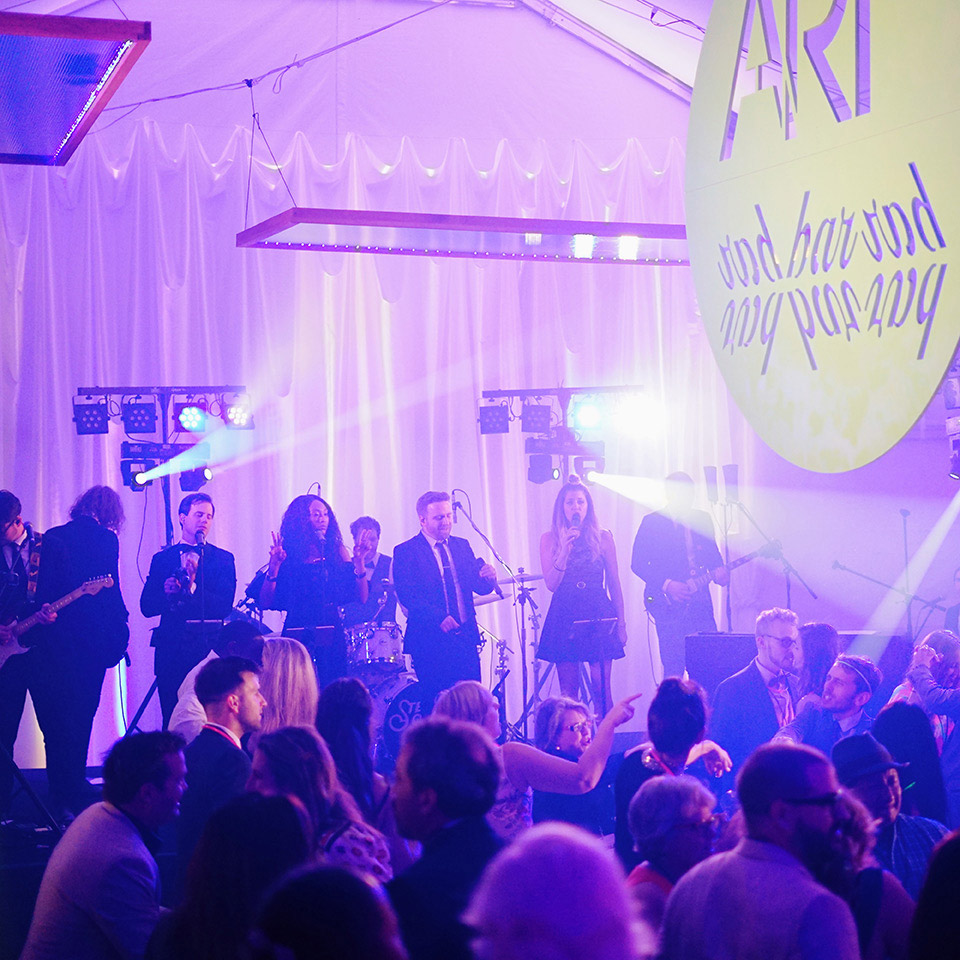 Artisphere VIP Preview Street Party
Thursday, May 6th | 6PM-9PM
For the first time ever, Artisphere will host a preview party on the festival site where VIPs get a first look at artists' work and a chance to browse and buy before the festival opens to the public. Mingle, socially distanced, while enjoying beer, wine, heavy hors d'oeuvres, and music on the streets of our beautiful downtown.  Meet the artists, visit with friends, and enjoy a memorable evening under the stars.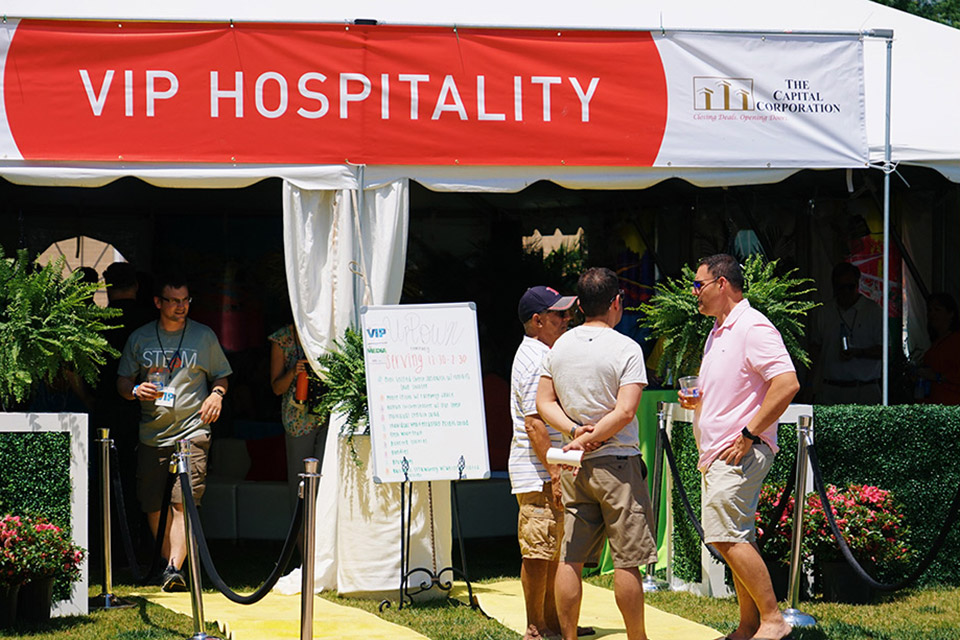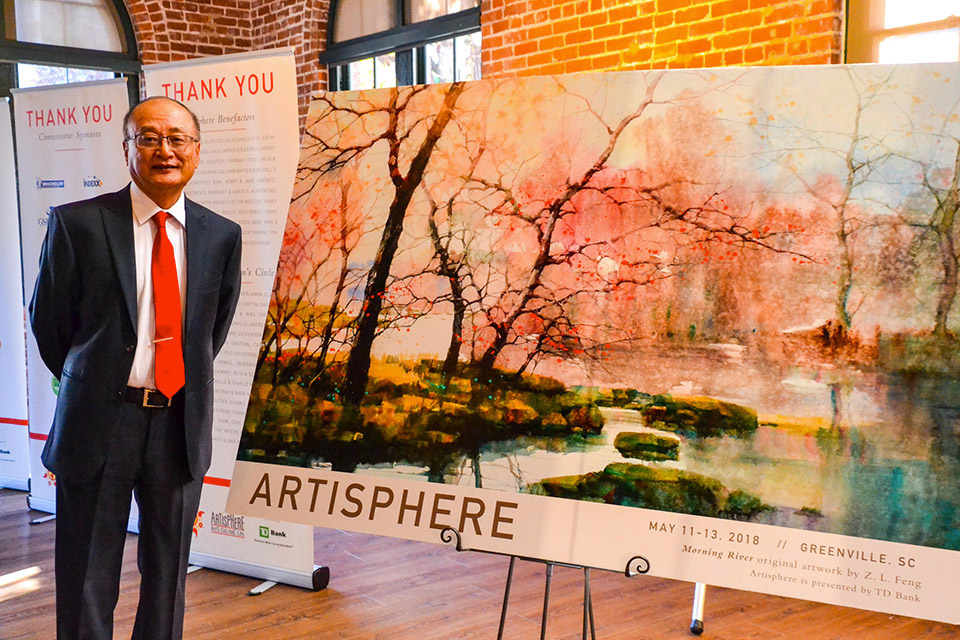 "Sneak Peek" Commemorative Poster Unveiling Cocktail Reception
April 15th at Wyche Pavilion
As a VIP you are among the first to see the annual commemorative poster and merchandise images. Meet the artist(s) behind the commemorative images, mingle with other VIPs, and get some of the programming highlights before the news is released to the public.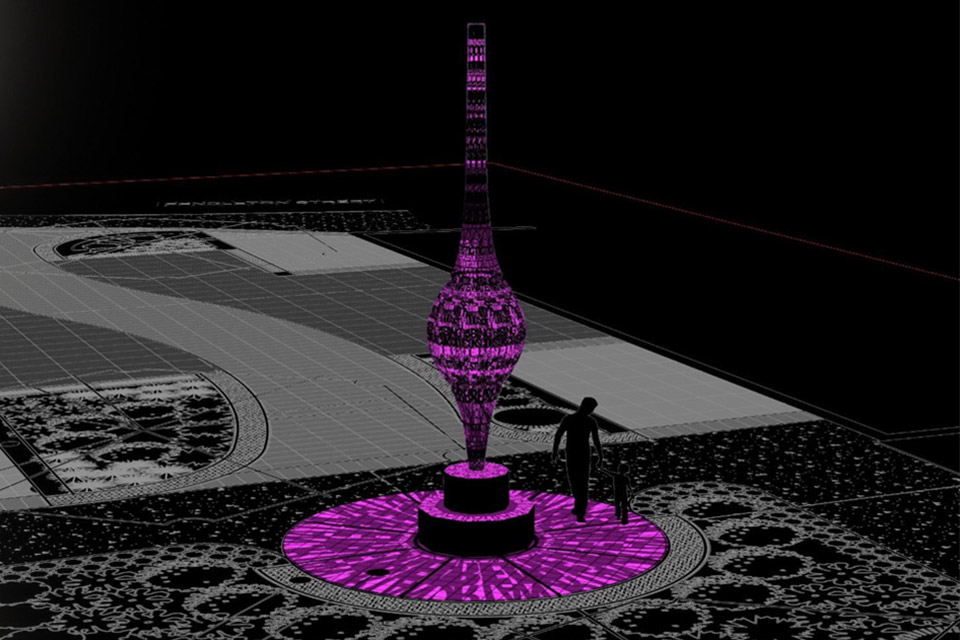 Treat Yourself to the Artisphere VIP Experience
Benefactor
$2,500
A donation at this level affords you:
Four tickets to the VIP Preview Party
Four VIP Hospitality Passes for the weekend
Invitation to "Sneak Peek" Poster Party Unveiling Celebration
Name recognition in Artisphere Festival Guide and on artisphere.org
BECOME A BENEFACTOR
Chairman's Circle
$1,500
A donation at this level affords you:
Two tickets to the VIP Preview Party
Two VIP Hospitality Passes for the weekend
Invitation to "Sneak Peek" Poster Party Unveiling Celebration
Name recognition in Artisphere Festival Guide and on artisphere.org
JOIN THE CHAIRMAN'S CIRCLE
Friend of Artisphere
$500
A donation at this level affords you:
Two tickets to the VIP Preview Party
Invitation to "Sneak Peek" Poster Party Unveiling Celebration
Name recognition in Artisphere Festival Guide and on artisphere.org
BECOME A FRIEND OF ARTISPHERE
AFL Global
David & Ginnie Beard
Ann Bryan
Blue Ridge Electrical Cooperative
Canal Insurance
Canvas
Cherry Bekaert
Christophillis & Gallivan, PA
Crawford Strategy
Fifth Third Bank
First Citizens Bank
Rod & Linda Grandy
Phil & Sara Gregory
Greenville Tech
Henry & Jamie Horowitz
Rob & Katie Howell
Earle & Margaret Hungerford
IBERIABANK/First Horizon
Greg & Leslie Ingram
KATANA Safety
Kentwool
Kimberly Kent
KW Beverage
McMillan Pazdan Smith Architecture
Monkee's of the West End
Carla & Mitch Norville
Bob & Charlotte Otto
Overture Greenville
Saad and Manios, LLC
Hal & Minor Shaw
Sidney Pearce & Sara Ellis Snelling
Southern First
Steve & Allison Spinks
Arch & Sara Thomason
Chuck & Sherri Timmons
TPM
Womble Bond Dickinson(US)LLP
Artisphere Chairman's Circle
Melissa Albergotti
Greg & Amanda Arscott
Art & Light Gallery
Bo & Judith Aughtry
Bob Barretto
Neil & Lindsey Batavia
David & Kristine Berger
Charles & Ericka Brewer
William W. Brown
Brad & Cathy Campbell
Mike & Ann Chengrian
The Cook's Station
Edwin & Andrea Cooper
Rusty & Maura Copsey
Craig Gaulden Davis
Tim Quinn & Sara Dadyar-Quinn
Dave & Nancy Derrick
John & Sunnie DeWorken
DP3 Architects
Vernon & Tarita Dunbar
Stephen Edgerton
Nathan & Sugie Einstein
Rick Erwin Dining Group, LLC
Alan Etheridge
Find Great People
Ellis & Jane Harrison Fisher
David & Mary Gossett
Benny & Linda Hannon
Peter & Jean Helwing
Robert Hughes
Larkin's on the River
David & Courtney Lominack
Foster & Madison McKissick
Scott & Beth McMillan
Metal Chem, Inc.
Rachelle & Charlie Mickel
Cliff & Reschin Moore
Rob & Stephanie Morgan
Bob & Christine Nachman
Bob Morris & Lesley Pregenzer
Bob & Cindy Munnich
Frank & Linda O'Brien
Patrick & Lynn O'Dell
Tom & Susan O'Hanlan – Sealevel Systems
Brian & Amy O'Rourke
Jeff & John Outten
Jack & Cindy Plating
Sue Priester
Kyle Putnam
Clay & Stephanie Rainey
Tim & Susan Reed
Connie Shamlin & Olivier Badia
Paul & Precia Shaw
Jason & Laura Sippey
Jennifer Smith
RJ & Andreanna Snyder
Jo Sousa, MD
Carl Stecker
Ed & Anne Stein
Ron & Jennifer Stilwell
Chris & Heather Stone
Joe & Donna Sullivan
Mary & David Swain
Erin Swann
Mr. Tod N. Tappert
John & Kris Uprichard
Ralph & Lea Walker
Erik & Robin Weir
Wilson Real Estate Associates
Westin Poinsett Hotel
John & Michelle York
Ed & Susan Zeigler
Alicia Abrams
Barnhardt Foundation
Andrew Baird & Jennifer Buckner
Joe & Claire Blake
Phil & Mignon Canale
Michelle Cauley
Childers Real Estate Holdings
Don & Kimberly Cooley
Judy Iselin Cromwell
Elliot Davis
Annie Dodd
First National Bank
Brittany Fry
Virginia Boyle Kolb
Kottkomm
Judy Harrison & Michael Stepanavage
Virginia Hayes
Edward & Leigh Heidtman
Breeden & Dottie Hollis
Scott & Barbara James
Ben & Liza Lovelace
Graham & Emily Moseley
Candice Hunter
Orange Whip Golf
Derek & Missy Rick
Stephen & Mary Ridgeway
David Standard & Shannon Robert
Paul & Laura Rousseau
Mike Sarvis
Bob DiBella & Carol Savage
Francie Staub
Joe & Bobbi Swan
Tribute Verdae Apartments
Waterleaf at Keys Crossing Apartments
Anne Woods