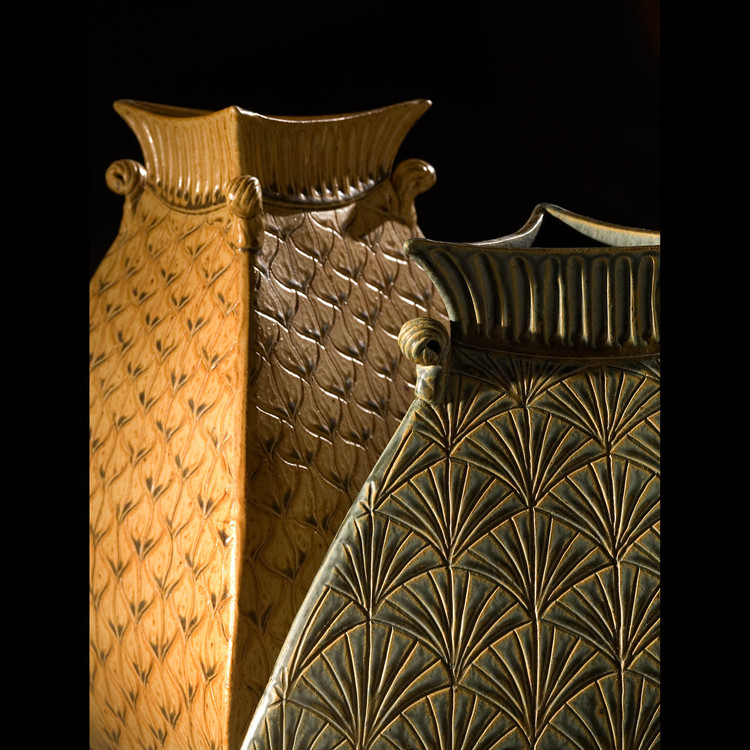 Jim and Shirl Parmentier are the only artists participating in the 15th annual Artisphere presented by TD Bank that have been featured in every. single. show.
In addition to being married to each other, the Parmentier's collaborate on their Ceramics business, and they've traveled the country doing art shows for the majority of their professional careers. In honor of our 15th anniversary, we asked Jim and Shirl 15 questions about art and Artisphere.
Q: Who/what has been the biggest influence on your work?
A: One of the biggest influences has been our customers.  They see our work and often ask about altering a piece or making something completely new for them.  Many of these ideas have helped develop the body of work that we do today.
Q: What part of the creative process is most exciting to you?
A: The finishing process.  Hand built pieces are rather crude until they are smoothed down with a surform and sponge.  At this point they are altered and carved and then we have a good idea as to what the piece will look like when fired.
Q: What is your favorite Artisphere memory?
A: That would be the first year of the show.  You started the show by inviting 20 nationally known artists.  They in turn suggested other artists that should be invited to apply.  We were in the group that was invited to apply.  From the first year on Artisphere has always been a top quality show.  A Sunday morning mother's day walk in Reedy River Park is a must.
Q: What is a day in the studio like for you?
A: A day in the studio is always a very full day.  We always know ahead of time exactly what we'll be working on.  It can be prepping clay, putting pieces together, carving, glazing or firing.  Clay will not always wait, if it's ready to work with it has to be done right away.
Q:What is the biggest change that you've noticed at Artisphere since 2005?
A: We've watched Artisphere change from a small local show to a nationally recognized art fair.  The caliber of artists has become exceptional.
Q:Why is Artisphere a "must do" show for you every year?
A: Artisphere has always been a favorite show.  The people of Greenville love their city and are always supportive of the show.  It's very well run with a very organized set up and tear down.  It has a wonderful staff that has always listened to the artists needs.
Q:What is the most memorable response a customer had to your work?
A: "I just recovered from surgery and was given the news that I don't have cancer.  I'm treating myself to one of your pieces."
Q:How would you describe your work in 5 words?
A: Distinctive, well-crafted, precise, flowing, recognizable
Q:What other shows do you participate in during the year and what sets Artisphere apart?
A: We've done shows all over the country for the last 40+ years.  Some are indoors such as the Philadelphia Museum and Smithsonian Craft Fairs and many are outdoors such as the top rated shows in Denver, Saint Louis, Portland and Kansas City.  These have changed from art fairs to major city events.  Artisphere has always put the emphasis on the art and the artist.
Q:What is your background in art (self-taught or schooling) and how has it affected your work?
A: We are both pretty much self-taught in what we do.  We've learned a lot through trial and error.  It's also given us an advantage because can work on new pieces without having any boundaries of the do's and don'ts.
Q:How long did it take for you to develop your own personal art style?
A: Our own personal style of hand building has gone through many changes over the years.  All of the early pieces we made were meant to be functional and utilitarian.  Now we are more decorative and still feel that our best work is yet to come.
Q:What advice would you give to aspiring artists?
A:That's a hard question.  When we started out many years there weren't as many potters and shows were not as competitive to get into.  Application fees, booth fees and travel expenses are keeping a lot of talented potters looking for other ways to market their work.  Our biggest advice is to develop your own style and keep working to improve it.
Q:How has your work changed since you first started?
A: We went from small serving pieces, to woven baskets to the lamps and vessels that we make today.
Q:What's the most challenging part about being an artist?
A: It's been a huge challenge to get where we are today.  We raised two daughters, sent them to college, bought a house and built a studio, paid for our own health care and all the insurances needed to build a business.   There are many art show expenses and endless travel.  Endless long days and hours in the studio.  We are very fortunate that we have shared this passion.
Q: What work are you most proud of and why?
A: Our current body is what we're most proud of.  It's a accumulation of all that we have done up to now.
Q: How do you know when a piece of art is finished?
A: That's an easy one.  It's done when it comes out of the kiln.  It's even better when it goes home with a happy customer.
Q: How do you want your work to be remembered?
A: We want our work to be remembered for pleasing forms and designs that are all cohesive, with carving and glazes all flowing together with impeccable craftsmanship.