FOR IMMEDIATE RELEASE
February 23, 2015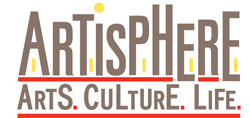 Contact: Kerry Murphy  864.271.9398 (o)  [email protected]        
Artisphere Reveals 2015 Visual Artists
Greenville's Annual Fine Art Show Makes National TOP 10 List Three Years Running
[Greenville, S.C.] – The eleventh annual
Artisphere
presented by TD Bank is poised to break more records.  Greenville's signature visual, performing and culinary arts celebration will be held May 8-10 and will showcase 121 exhibitors, selected anonymously, from a record high applicant pool of 995.
This year seventeen local artists' scores earned them a coveted spot on Artists Row, seven of whom are festival first timers. The lineup includes Kent Ambler (Print Making), Robert Buntin (Emerging Artist –New Artist), Joseph Bradley (Oil/Acrylic Painting and 2D Mixed Media), Janina Ellis (Oil/Acrylic Painting), Darin Gehrke (Ceramics), Hallie Gillett (Watercolor –New Artist), Lynn Greer (Watercolor), Erin and Jason Hall (Ceramics – New Artists), Leandra Hill (Precious Jewelry – New Artist), Sarah Mandell (Semi-Precious Jewelry – New Artist), Jerry Maxey (Fiber – New Artist), Danielle Miller-Gilliam (Precious Jewelry), Jacki Newell (Oil/Acrylic), Katie Poterala (Emerging Artist – New Artist), llyn strong (Precious Jewelry), Judy Verhoeven (2D Mixed Media), and Jaryd Walley (Furniture).
"We have never had a group of artists as impressive as those lined up for this year," explained Bill Pelham, Artisphere Visual Arts Committee Chair, "The caliber of creativity and artistry that the 2015 exhibiting artists represent is absolutely incredible and to have them all come together in Greenville for Artisphere is something special."
"TD Bank is proud to once again support Artisphere as its Presenting Sponsor," said David Lominack, Market President. "Every year, this event brings a wonderful variety of art, artists and patrons to downtown Greenville, and we congratulate the local artists who have been selected. Events such as this help maintain the attractive quality of life in our community, and we are happy to play a part in helping Artisphere continue its great success in the Upstate and on the National stage."
In addition to local artists, the line-up for 2015 features a number of nationally acclaimed artists. Newbie, Jeweler Tara Locklear (Raleigh, NC), creates semi-precious jewelry comprised of industrial and re-purposed elements. Her urban environment inspired pieces earned her a spot as a 2014 Society for Contemporary Craft Lyndon Emerging Artist Program Finalist. Another Artisphere rookie, Ceramist Amelia Stamps (Lexington, KY), boasts numerous professional awards including the Kentucky Arts Council's Emerging Artist grant.  Stamps' work is exhibited in art galleries nationwide.
Chris Wheeler (Houston, TX) is a master of 2D Mixed Media. While living in Taiwan with wife Nha Vuu, also a 2015 exhibiting artist, Wheeler learned how to mount works on paper for scrolls and shoji screens.  He is one of the few people in the U.S. who is able to restore and repair 300 year old shoji screens and rare works of art on paper.  Vuu has studied under two masters, one who taught her classical Chinese painting and another who taught her a more contemporary style of Chinese painting. Vuu incorporates techniques from both masters and creates her own style, which embraces ancient concepts and contemporary brushstrokes.
Forty-two of this year's exhibiting artists have never before exhibited at the Artisphere festival.  A complete list of the 2015 visual artists is available on www.artisphere.us, Artisphere's newly revamped, mobile friendly website. Festival organizers also announced their annual Art Fair Sourcebook industry ranking for the 2014 festival.  The festival jumped up from 2013's #10 ranking to #7 for the 10th annual festival last May.  This is the third year in a row that the show made the top ten and the fourth time in the last five years.  Greg Lawler's Art Fair Sourcebook annually ranks the top six hundred selling art shows across the country.
"To be recognized as one of the top selling art shows across the country is an honor itself," stated Artisphere Board of Directors President, Charlie Mickel.  "To be a top ten show in the country and in the company of such cities as Chicago, Portland, Denver, Fort Worth, Scottsdale, and Philadelphia, is a testament to what a gem this annual event has become not only for Greenville's art community but exhibiting artists across the country."
Artisphere will release additional visual, performing and culinary arts announcements in the coming weeks.  For more information about this year's event visit www.artisphere.us.
Artisphere is presented by TD Bank.
Opening Night Gala sponsors: Coldwell Banker Caine, Rick Erwin's Nantucket Seafood, and Synnex
Artists Row sponsor: GE
Artists Demonstration Row sponsor: Michelin
STEAM (Science Technology Engineering Arts & Mathematics) Exhibit sponsor: Clemson University
Art in Action Stage sponsors: Wells Fargo and Berkshire Hathaway C. Dan Joyner Realtors
The Main Stage and Artisphere After Hours sponsor: WYFF-4
Local Performing Arts Showcase sponsor: The Fred Collins Foundation
Wine and Craft Beer Experience sponsor: SunTrust Bank
The Artists of the Upstate Juried Exhibition sponsor: Greenville Health System and Greenville Journal
Greenville County High School Juried Exhibition sponsor: Current Tools
Kidsphere sponsor: ScanSource
Silent Auction Gallery sponsor: Courtyard Marriott Downtown, Hampton Inn & Suites Riverplace, and Windsor Aughtry
Aerial Arts Amphitheatre sponsor: Trane
People's Choice Award sponsor: Cherry Bekaert
Mayor's Choice Award sponsor: Haynsworth, Sinkler, Boyd, P.A.
VIP Hospitality sponsor: McKinney Dodge Ram Chrysler Jeep and Rick Erwin's West End Grille
"Sneak Peak" Commemorative Poster Unveil Reception sponsor: TALK Magazine
Bike Valet sponsor: Elliott Davis Decosimo
Aficionado Sponsors: Engenius, iHEARTMedia, The Greenville Journal & TOWN, The Greenville News & TALK, Indexx, The Peace Center for the Performing Arts, VisitGreenvilleSC, WYFF-4, and ZWO.
Connoisseur Sponsors: Bon Secours St. Francis Health System, The Capital Corporation, Duke Energy, Gallivan White & Boyd P.A., Garfield Signs and Graphics, Metromont, Professional Party Rentals, Triangle Construction, Whole Foods Market, Yeargin Potter Shackelford and Wynit
Collector Sponsors: Ben Arnold Beverage, Co., BlueCross BlueShield of SC, BMW Manufacturing Co, Brown Mackie College, Budweiser of Greenville, Canal Insurance, Crawford Strategy, Entegra, Fete, Furman University, Godsey & Gibb Wealth Management, Henry & Jamie Horowitz, The Hughes Agency, Larkin's on the River, Page 1 Branding, Pepsi, Roylco, Table 301 Restaurant Group, Tower East Apartments, TPM, United Community Bank, Windstream Communications, and World Acceptance Corporation.
Artisphere is funded by grants from The City of Greenville, Greenville County, Fred Collins Foundation, Daniel-Mickel Foundation, Graham Foundation, Jolley Foundation, Metropolitan Arts Council, and South Carolina Arts Commission.
Artisphere Benefactors: Aerodyne Alloys, LLC, Jerry & Tammy Barber, BNC Bank, C-III Capital Partners, CertusBank, Clemson University, First Citizens Bank, Earle & Margaret Hungerford, Shannon Caldwell Kubu, McMillan Pazdan Smith Architects, The Priester Foundation, and Minor & Hal Shaw
Artisphere Chairman's Circle: Al & Helen Hagood, Brad & Cathy Campbell, Eastern Trading Company, Mr. & Mrs. Nathan A. Einstein, Ted & Anne Ellefson, Col. & Mrs. Fran C. Foster, Peter & Jean Helwing, John & Chelle Kelaher, Erwin & Nancy Maddrey, Smyth & Martha McKissick, Michael & Susan Riordan, Sidney Pearce, Piedmont Arthritis Clinic, Tim & Susan Reed, Greg Rudell, Carl Stecker, Bryson & Melissa Thomason, and The Westin Poinsett
Friends of Artisphere 10-X Group, Todd Baldree, Craig & Peggy Carver, Community Foundation of Greenville, Scott & Beth Daniels, Tom & Eva Marie Fox, Chris & Virginia Hayes, Howard & Angi Einstien, Jim & Lynn Gilreath, Jackie D. Highly, Fletcher & Garland Mattox, MetalChem, Inc., Clark Mickel, The Palmetto Bank, Tripp & Suzanne Renfro, Porter & Ann Rose, Jo & Caroline Ryan, Dr. & Mrs. Mathew Smith, and The Spinx Company
About Artisphere
Artisphere is a highlight of Greenville's cultural calendar and a Top 10 Fine Arts festival. The event features a juried Visual Artist Row; Artists of the Upstate, a juried exhibition of local artists; Outdoor Stages with performances by local and national artists; hands-on Kidsphere children's art activities; the Culinary Arts Café that highlights local restaurants; and Special Festival Art Projects that enliven the streets of Greenville with street musicians, acrobats, sidewalk artists, and more. Artisphere is attended by approximately 75,000 patrons annually and has an estimated economic impact of $5.5 million on the Greenville community. Artisphere is a 501(c) (3) not for profit organization. For information visit www.artisphere.us.
About TD Bank, America's Most Convenient Bank®
TD Bank, America's Most Convenient Bank, is one of the 10 largest banks in the U.S., providing more than 8 million customers with a full range of retail, small business and commercial banking products and services at approximately 1,300 convenient locations throughout the Northeast, Mid-Atlantic, Metro D.C., the Carolinas and Florida. In addition, TD Bank and its subsidiaries offer customized private banking and wealth management services through TD Wealth®, and vehicle financing and dealer commercial services through TD Auto Finance. TD Bank is headquartered in Cherry Hill, N.J. To learn more, visit www.tdbank.com. Find TD Bank on Facebook at www.facebook.com/TDBank and on Twitter at www.twitter.com/TDBank_US.
TD Bank, America's Most Convenient Bank, is a member of TD Bank Group and a subsidiary of The Toronto-Dominion Bank of Toronto, Canada, a top 10 financial services company in North America. The Toronto-Dominion Bank trades on the New York and Toronto stock exchanges under the ticker symbol "TD". To learn more, visit www.td.com.